The Bear Creek Federation logo is comprised of a black bear standing over a creek inside a Zuni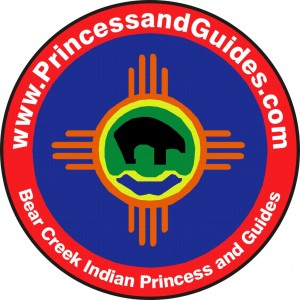 Zia symbol on a background of blue water, encircled by a red band containing the words 'Bear Creek Federation". The logo brings together elements of our geographic region, Native American heritage and Indian Guides and Indian Princess ideals. The name represents the area where Big Bear Creek and Little Bear Creek join together to frame our region of North Texas. It was at this place (Grapevine, Texas) where Sam Houston signed the treaty with the Native Americans of 1849.
The area was known to have indigenous black bear prior to the 20th century. Little is known of the Indians who inhabited the area before the coming of European explorers in the sixteenth century. Groups thought to have been in the area were the Tonkawas and the Hasinai Caddos. By the late 1700's the Comanches, Kiowas and Wichita had also moved into the region.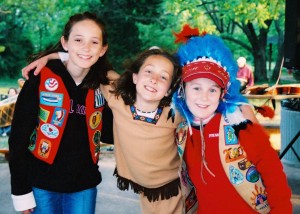 The Zia in our logo is from the Zuni Indians. The heart of the Zia is a circle that stands for the sun, the moon, the home, and the perfect friendship. The four lines that radiate in each direction symbolize, respectively, the four seasons (Spring Summer, Winter, Fall) the four directions (North, South, East and West), the four parts of the day (Morning, Noon, Evening and Night) and the four Phases of life (Childhood, Youth, Adulthood and Old Age).